Our Helicopters
Augusta-Westland AW-139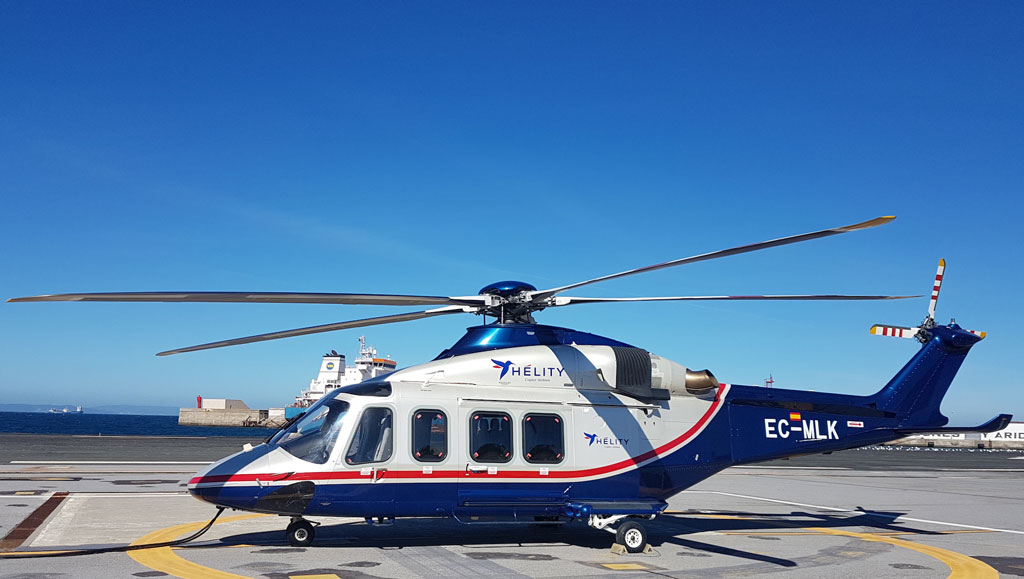 General characteristics
Crew: 2 pilots (Commander and co-pilot)
Capacity: 15 people, or equivalent load
Length: 16.62 m.
Main rotor diameter: 13.80 m.
Height: 4.98 m.
Circular area: 149.57 m²
Empty weight: 3,622 kg
Loaded weight: 6,800 kg
Power plant: 2 × Pratt & Whitney Canada PT6C-67C turbo axle.
Power: 1,142 kW (1,531 hp) each.
Performance
Speed never exceeded (Vne): 310 km / h (193 MPH; 167 kt)
Range: 1,061 km (573 nmi; 659 mi)
Flight ceiling: 6 098 m (20 007 ft)
Ascent regime: 10.9 m / s (2 146 ft / min)
Military users
Cyprus
Cyprus National Guard
Egipto
Egyptian Air Force
Estonia
Estonian Border Guard
Ireland
Irish Air Corps
Italy
Italian Air Force
Italian Coast Guard
Lebanon
Lebanese Air Force
Nigeria
Nigerian Air Force
Taste
Qatar Air Force
Thailand
Royal Army of Thailand
Trinidad and Tobago
Trinidad and Tobago Army
United Arab Emirates
United Arab Emirates Air Force
Panama
National Aircraft Service
Government Users
Chile
Police from Chile
China (Beijing)
Municipal Public Security Office
Olympic Games
Local Police
South Korea
Korean Coast Guard
Australia
Queensland Government
Spain
Salvage and Maritime Safety Society (SAR)Sociedad de Salvamento y Seguridad Marítima (SAR)
U.S.
Los Angeles Fire Department
Policía del Estado de Maryland
Policía del Estado de New Jersey
U.S. Customs and Border Protection Office
Japan
Coast Guard of Japan
Malaysia
Malaysian Coast Guard
United Kingdom
Coast Guard of His Majesty
Civil users
Aero Toy Store Headquarters in Fort Lauderdale, Florida. In their fleet they own 4 AW139.
Bristow Marine Helicopters, British company.
CHC Helicopters. European division of Canadian operator. It has a fleet with 8 AW139.
Copterline Main helicopter operator in Finland. Ordered 2 AW139.
It was aviation. Subsidiary of the US company Seacor Holdings, Inc., specializing in offshore operations. It has a fleet with 20 AW139.
Gulf Helicopters Based in Doha, Qatar. 17 AW139 are part of its fleet.
Weststar Aviation Based in Malaysia
Babcock España. It has 13 AW139 destined for SAR.